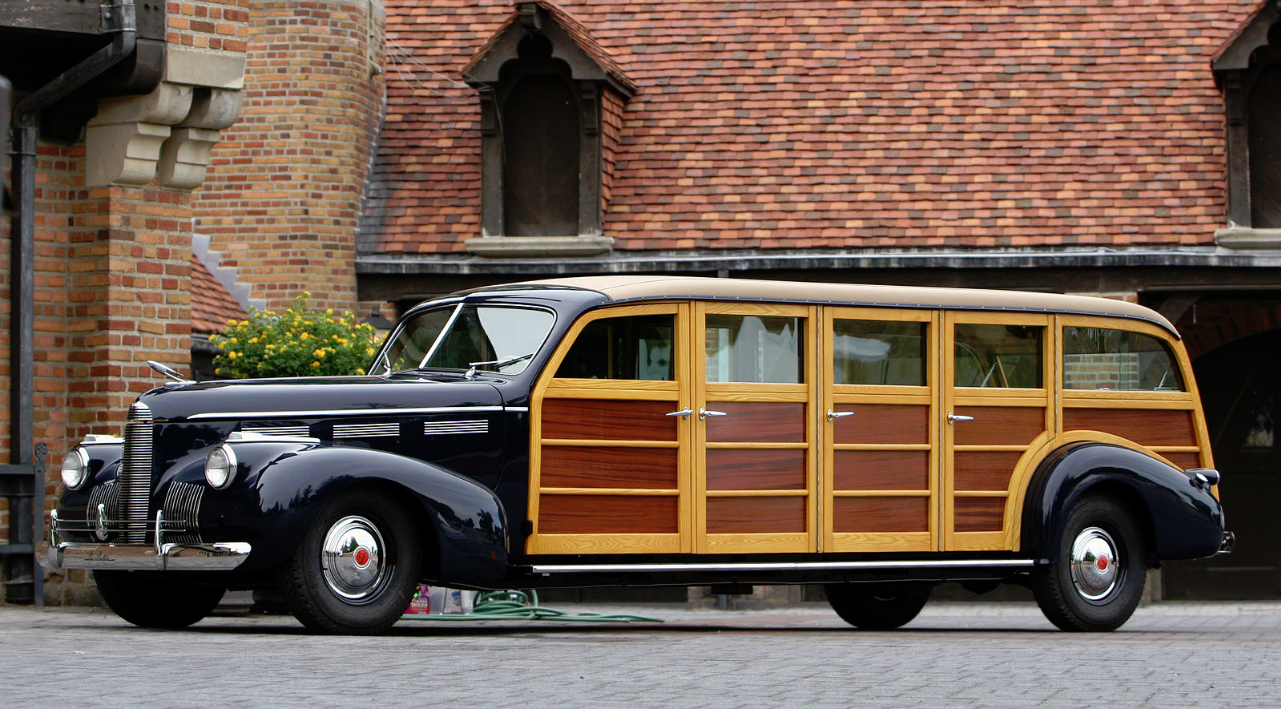 In their day, wooden bodied station wagons were work horses. Considered unattractive and strictly utilitarian, they were produced in low numbers. Then after a half century of production, they were gone, discontinued, largely because they were so difficult to manufacture and maintain. Yet today, they can sell for more than a house and are considered classic beauties.
Sometime in the late 19th century, a forgotten mechanic fastened a primitive engine to a horse drawn wagon creating the first horseless wagon. The details have been lost to history but from that humble beginning, a style of automobile was born, one that still exercises influence upon us over 100 years later.
Just into the 20th century, furniture makers began making "woodies" as a sideline to their businesses. They would purchase an automobile without a body, and build a body from wood. These custom vehicles were often set up like small buses and were commonly used by resorts to transport guest to and from railroad depots. They weren't called woodies back then. Rather, they were known as "depot hacks". In the horse-drawn days, a "hack" was a wagon.
Some woodies went upscale and became favorites of the wealthy. Sometimes referred to as estate cars, they would gain popularity with "county gentlemen" who owned large rural estates.
Eventually auto manufacturers began producing their own versions. Ford introduced the first production woodie in 1929. Throughout the 30's most other manufacturers joined in, usually with very limited success, Some lesser known car makers only produced a prototype or two. The largest car compamy at the time, Chevrolet, waited until 1939 before they introduced their first woodie.
By then the vehicles had become known as "station wagons", a variation of the earlier name "depot hack", but was still a reference to train stations.
Woodies were never a profitable item for car makers. They were extremely labor intensive to produce; literally hand assembled. Ford bought a track of forest known as Iron Mountain in Michigan as a source for lumber, other makers simply purchased the lumber, or more often, had outside vendors manufacture the wood bodies.
Woodies were considered commercial vehicles; part of the truck line. They were advertised with pickups, delivery vehicles and other commercial workhorses. While families might occasionally end up owning station wagons, you'd be more likely to see the local handyman driving one. Despite the obvious advantage for transporting kids, use of station wagons for family transportation was still years away.
With the passenger compartment being made completely of wood (including the roof which was covered with a waterproofed fabric), there were plenty of drawbacks. The cars tended to squeak as the wood joints aged and the wood needed constant refinishing much like a piece of furniture left outside. Despite constant care and attention, the wood was prone to moisture damage, discoloration and rot. And while no one ever performed any safety studies on woodies, it is easy to assume in a serious crash, the passenger compartment would splinter and break apart.
It's interesting to note that throughout this time, all-steel wagons were available. Chevy had one in the 30's, the predecessor to today's Chevrolet Suburban. Despite their practicality, steel wagons were not popular… but their time was coming.
Ford maintained dominance in wagon production through 1942 when WWII brought an end to all civilian automobile production. During the war, a small number of woodies were made for the military and were painted army green or tan. Most, it seems, were shipped overseas.
After the war, GI's returned home and the historic baby boom began. For the major manufacturers, the new 1946, '47 and '48 automobiles were nothing more than warmed over '42's. This included station wagons. But once car makers caught up with demand, they turned their attention to new designs and retooling.
This was the beginning of the end of wooden bodied wagons. The 1949 Chevrolet, Pontiac and Oldsmobile wagons featured just a strip of wood running lengthwise down the side, along with a wooden tailgate. By mid year, the wood was gone, replaced by a wood grain decal.
The 1949-51 Ford and Mercury wagons featured real wood but in the form of inserted panels. The wood was no longer structural. It was cosmetic. When the new 1952 Ford wagon arrived, the wood was gone and in its place was a simulated wood-look material. The last major maker to offer a full production wagon with real wood on the exterior was Buick in 1953.
And just like that, the woodie era was over… but the popularity of the replacement, the all steel station wagon, was really just starting. Families finally discovered their usefulness and production soared. While Chevrolet only produced 800 wagons in 1939, in 1955 they made 161,000. Wagons would remain the undisputed family car until mini vans arrived in the 80's.
By the late 50's, all the original old woodies were fast disappearing from American streets. Outdated, out of style and in disrepair, they seemed destined to be forgotten relics of a bygone era, accumulating in junkyards and abandoned in out-of-the-way-places.
But another chapter for these wonderful vehicles was about to unfold. In the early 60's, the surfing craze began. Surfers, who always seemed to be strapped-for-cash, found they could buy woodies cheap, and that they were perfect for lugging around the long surfboards of the day.
While not really their goal, surfers prolonged the lives of countless woodies. It was something of a California oddity but surfers didn't actually restore their wagons, they simply kept them going. When surfing music arrived, groups like the Beach Boys immortalized woodies in their songs. Immediately, the connection between surfing and woodies became permanent.
In fact, it was surfers and their music that gave rise to the term "woodie".
As late as the early 70's, woodies were still considered low on the list of collector cars. In 1973, Will O'Neil of Hawthorn, California started the National Woodie Club, a car club for woodie enthusiast. Since that time, values have steadily risen, reaching dizzying heights. It is not uncommon for a woodie to be offered at $150,000 today. Even the mostly steel, post war woodies now command high prices.
All along the way, car makers have paid tribute to the old woodies. Well into the 80's, the top of the line wagons still sported the wood look, even if it was nothing more than adhesive backed vinyl sheets. In the 80's, Chrysler mini vans featured "wood" panels. In fact, Chrysler offered a rather authentic looking line of wood styled wagons in their K series into the 90's.
Today, the wood look for new cars has pretty much fallen out of style, yet the demand for woodie souvenirs, clothes, toys, jewelry and other collectables has never been greater. And not just at surf shops. Woodies as cultural items, have gone mainstream.
It's hard to imagine that there were ever automobiles made of wood. Yet for half a century, a tiny fraction of automobiles produced were indeed constructed of timber. One standing joke was, "Hey, that's a nice car you've got there… when are you gonna take it out of the crate?" And of course there was a never-ending barrage of stale termite jokes, but the laughter has long since turned to admiration.
And while ownership of an actual woodie may not be realistic (or affordable) for most, there is no doubt that the bringing together of sheet steel and wood was, and is, a great time.